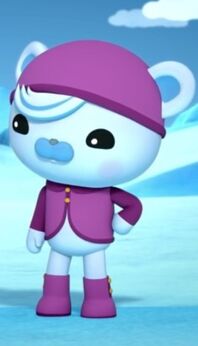 Bianca Bear
Information
Bianca is an upbeat and confident polar bear. She is Captain Barnacle's twin sister and a polar scout like him. Bianca has 2 twin polar bear cubs named Orson and Ursa.
Appearance
Bianca wears all hot pink including her hat, sweater, and boots. Her boots have 2 gold buttons on the side. She also has a tuft of hair.
Family
Barnacles - (Twin Brother)
Orson - (Son)
Ursa - (Daughter)
Ad blocker interference detected!
Wikia is a free-to-use site that makes money from advertising. We have a modified experience for viewers using ad blockers

Wikia is not accessible if you've made further modifications. Remove the custom ad blocker rule(s) and the page will load as expected.