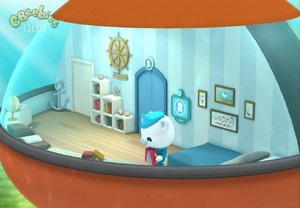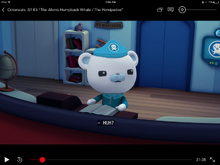 Captain Barnacles' room is in the same pod with Kwazii's room. Its walls are mostly blue with lighter stripes. On the wall there is a ship-steering wheel and a board with a inscription "MV MANITOBA" - probably the name of a ship he has sailed on. There is also a bookcase with a figurine of a walrus and a sextant on it. Above his bed (which, of course, has a blue counterpane) Barnacles has a few pictures - the photos of him in Arctic with an expedition. In the corner there is an anchor. The room also has a shelf at the window, with a globe and a few books on it.

Ad blocker interference detected!
Wikia is a free-to-use site that makes money from advertising. We have a modified experience for viewers using ad blockers

Wikia is not accessible if you've made further modifications. Remove the custom ad blocker rule(s) and the page will load as expected.