Dashi's room is in the same pod with Peso's room. It's walls are pink and the floor's green. On the wall there's 4 pictures. Near Dashi's bed there's a dresser with pictures she's taken. Similarly to all the others, Dashi's room has a closet in it and a chest of drawers. There's also a little table at the window with some books and two violet flowers in pots on it.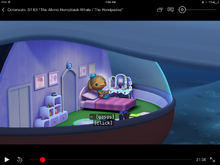 Ad blocker interference detected!
Wikia is a free-to-use site that makes money from advertising. We have a modified experience for viewers using ad blockers

Wikia is not accessible if you've made further modifications. Remove the custom ad blocker rule(s) and the page will load as expected.