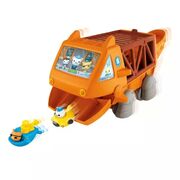 Gup-G is an upcoming Gup, which appears to be a Mobile Operations Base capable of launching the other Gups. The toy is already available.
It is mentioned in one of the original books. It is modeled after a Salamander, and can walk on land, and swim in the sea, just like a Salamander. It is big enough to fit all of the Octonauts inside.
As of January 20, 2018, Silvergate Media announced that the Gup-G will debut in Season 5 which will premiere in 2018.