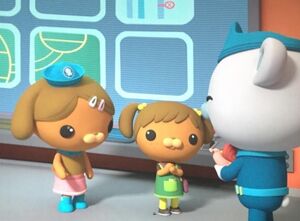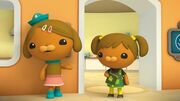 Section heading
Koshi
Information
Koshi Dog

Koshi is Dashi's 10 year old sister who plays detective seen in The Kelp Monster Mystery. She is a fan of mystery novels and is honest and well behaved around others. Koshi helped the octonauts solve a disappearance in the kelp forest and lead the way. She was about to turn 11 years old and is full of kindness.
Appearance
Koshi has a black shirt with a jade green overall dress with a pocket in the front. The pocket has a pencil and notepad in it. She has brown hair in two ponytails and yellow pearls. Koshi also has brown nose and muzzle. Koshi has yellow tights and green shoes.
Family
Dashi - (Big Sister)
Ad blocker interference detected!
Wikia is a free-to-use site that makes money from advertising. We have a modified experience for viewers using ad blockers

Wikia is not accessible if you've made further modifications. Remove the custom ad blocker rule(s) and the page will load as expected.