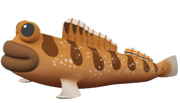 Mudskippers are fish that don't like to be in water. They are the only fish that breathe air, as they live and eat in the mud of a Mangrove Forest. They also like to have their own space and usually fight over it by mud wrestling or throwing mud.
Looks
A Combtooth Blenny with a crest on it's back with spots.
Appearance
The Octonauts And The Mudskippers
Trivia
In real life mudskippers can breathe both water and air, but they need to have moist mouths to breathe air.
Ad blocker interference detected!
Wikia is a free-to-use site that makes money from advertising. We have a modified experience for viewers using ad blockers

Wikia is not accessible if you've made further modifications. Remove the custom ad blocker rule(s) and the page will load as expected.