Section heading
Pearl Sea Otter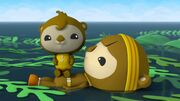 Information
Pearl Sea Otter is Shellington's twin sister. She is the same age as Shellington but is about 4 minutes older than him. Instead of being clumsy and nerdy like her brother, she is more serious and wise being a mom. Pearl is very smart and knows everything there is to know about kelp forests and kelp plants. She also has a newborn sea otter pup name Periwinkle. Unlike Shellington, Pearl does urchin duties.
Appearance
Pearl has a belt around her waist with gadgets and yellow shoes. She also has brown hair with a yellow sports band that has peach stripes
Family
Shellington - (Twin Brother)
Periwinkle - (Son)
Ad blocker interference detected!
Wikia is a free-to-use site that makes money from advertising. We have a modified experience for viewers using ad blockers

Wikia is not accessible if you've made further modifications. Remove the custom ad blocker rule(s) and the page will load as expected.