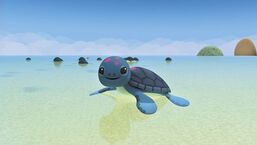 Soft Shell is a baby sea turtle that Kwazii named and appears in "The Baby Sea Turtles."
Appearance
Soft Shell is similar to all the baby sea turtles, but with pink spots on his head and his shell.
Personality
Although small and cute, Soft Shell can be stubborn and wants things done all by himself.