The Amazon Adventure

Season 2,Episode 15

Air Date

August 2, 2013

Episode

Guide

Previous

The Long Arm Squid
Kwazii enters a shipwreck to get a doubloon, which doubles as a map, to an underwater Hidden city. This leads the Octonauts up the Amazon River. Once there they see a Parrot, a group of freshwater stingrays, Black Caiman, and a bunch of Amazonian manatees. But a falling tree traps the GUP-A, and a tidal bore comes up the river, scattering the octonauts. Captain Barnacles looks for the others with the aid of an Amazon river dolphin river dolphin named Berta and her echolocation abilities. The octonauts help an electric eel, and a stranded Arapaima and get chased by piranha. But a wood-eating Panaque catfish frees the trapped GUP-A. Meanwhile Kwazii has been saved by Calico Jack who turns out to be alive, but lost his ship after an attack by fire ants and an anaconda. His incomplete map had led him in circles, but Kwazii's piece completes it so they can finish the quest. After being blocked by hostile Capybara they are reunited with the others in time to fight off more anacondas. Finally, the "hidden city" turns out to be a colony of golden freshwater sponges in the bottom of a pool.
Creatures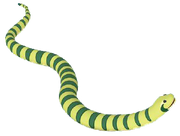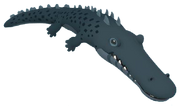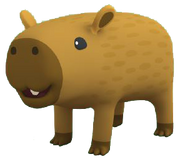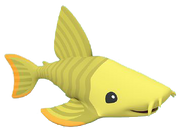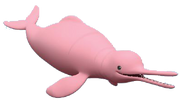 Trivia
Polar Bears and Penguins would overheat quickly in a tropical environment.
Black Caiman have more alligator like snouts and their bottom teeth don't show when their mouths are closed.
Arapaimas eat river dolphins.
Creature Report
Berta The River Dolphin