Twinkle the Sea Star



Name

Twinkle

Gender

Female

Breathes

Water

Size

Small

What they do

Glow in dark areas

Friend
Twinkle is a sea star from The Midnight Zone of the darkest area of the oceans, Twinkle can light up when either searching for food or traveling in the darkness. She was found on a beach and went down with the Octonauts from the beach and Sunlight Zone, all the way to the Midnight Zone.
Looks
Twinkle is a Purple-Pinkish sea star, but when glowing her body makes a bright pink light.
Appearance
Gallery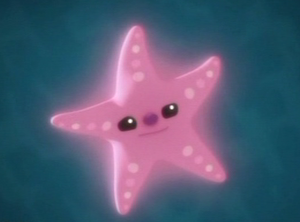 Ad blocker interference detected!
Wikia is a free-to-use site that makes money from advertising. We have a modified experience for viewers using ad blockers

Wikia is not accessible if you've made further modifications. Remove the custom ad blocker rule(s) and the page will load as expected.